Dead Love Club
Dead Love Club is worth seeing just on the merits of their show only not even including the solid groove of their musicianship. The cool costumes and stage presence are strong enough to inspire the crowd into dressing like the band. Read on to find out more about this Lusty Austin band.
20 questions with Emmy "Ferocious E" Robbin of Dead Love Club
1. How did the band form? When?
Johnny X started the band 6 years ago. He called me 5 years ago and said "Hey E! My brother said he saw you singing AC/DC in a cover band and said I had to have you in DLC." The way he described Dead Love club made it sound like sexual and emotional liberation and just becoming an animal rock god on a stage basically. My dream is somewhere between being Jessica Rabbit and Broadway so I jumped at the idea! He sent me their album "Chronic Electronic" to listen to and I was hooked!
2. How did you come to meet Alex vallejo?
I met the Vallejo brothers 13 years ago when I was a rock VJ for ME Television in austin. They came to the studio a lot. It was also basically my job to know every badass band in town. They are 100% badasses.
3. I had no idea that Alex was such a good singer. When did he decide to become a lead singer?
Oh that boy was born to be a frontman. He is such an incredible drummer! He's been known famously around town as one of the best drummers. So basically he has just been patiently watching other people and finally all 20+ years of patience comes out in an hour each time we play! It's so fun to be around. When he started DLC he released that animal.
4. How was the sexy theme of the band decided and who came up with the idea for the cool costumes?
Alex started it and came up with the idea of sexy bondage leather look. The masks were what was fun when first starting. It makes it so easy to be Ferocious E and Johnny X when we can hide our face a bit. Johnny and I have each put some fun changes on the costumes over the years. Kris St Kris too. He orders crazy cool sunglasses online! We all make our own costumes now. It's pretty funny to see the band group thread. It's a lot of us sending pieces we are so excited about and we just bought! Ha!
5. When did the audience start dressing up like the band and what is the craziest outfit anyone in the crowd wore At your past shows?
I think Elysium bar downtown austin was the originator of crowd dressing up. It's a goth bar. We had full on vampires dress up, teeth and all. One stripped down to his tightie whities at a show! I guess people who were there randomly started thinking everyone dresses up at our gigs. We LOVE it! We encourage it now. Dead Love Club is a club. We want our fans to feel like they are part of the band. Dressing up like us or even bringing them on stage with us are fun ways to be a part of our club.
6. Does the band have any aspirations at going all original, getting signed and touring in foreign countries?
Absolutely!!! But nobody wants to hear 100% originals at every bar. You have to play covers to get paid at all. We have Dead Love Club "Under the Covers" as our side strictly cover band to help pay for Dead Love Club the original band's promotion. Selling our Original Albums at our cover shows can build a big fan base. That's when you can go tour and succeed. Getting records in hands is our goal! And we would actually love to be a soundtrack band. I wish Vampire Diaries was still on. I could see DLC on their soundtrack. Or something on HBO.
7. How many videos does the band have now? Was it fun making the videos?
The band with just the boys had 2 videos. "Lover" and "Lies". We have made 2 more "Something Going On" and "Looking For Sone Action" since I joined the band 5 years ago. That's our next fun project, another video!
8. How long was each video shoot? How were they shot?
Did the band play live or play along with the bands own music to sync timing? Something Going On was a few days, few locations shoot. Teresa Jolie shoots like a movie director! She tells a fun story with her videos. Looking For Some Action was shot in 6 hours at St Elmo Soundstage. AJ Vallejo directed it and kicked ass. We played along to the track played back.
9. How many other projects does Alex and the band Vallejo have at this time?
A lot. Those guys are so talented. All of them. Alex helps so many people in the industry all the time. He literally knows every musician in town. He plays drums in Vallejo and Bang their hairband coverband. It's such a fun band to watch. When he is Johnny X he is the most alive though!
10. How much of the band's show is all original music?
Depends. When we play as "Under The Covers" it's 99% covers. We might throw in an original or two if the crowd seems like they would dig it. When we play as Dead Love Club we usually throw in about 4-5 covers in a 20 song set. I love seeing original bands cover some stuff during their shows. It's fun to hear each persons version of that song.
11. What other projects are you in right now?
Oh boy! Ha! Well my friends call me "The Hustler". I usually have anywhere between 5-7 jobs. I sing in the band. I also sing sometimes in a wedding/corporate party cover band The Grooves. I'm an actress so I'm constantly auditioning or shooting if I'm lucky. I host a car show 3 days a week, and I travel around to health conventions as a Brand Ambassador for Genesis Today.
12. What is your favorite venue to play with dead love club and why?
Recently we played Indian Roller. I absolutely love that place now. They have an entire house as a green room for the band. They stocked it with liquor and beer. It's so cool to be treated like that. The bar itself is really cool, cute, and gives that intimate awesome feel.
13. What artists does everyone in the band listen to? Did this influence the band into going this direction as far as genre?
We all loved the 80s. The Cure, Depeche Mode, Billy Idol, Joan Jett. We also all have a little funk and soul in us. Michael Jackson, Prince, Sade also inspired us. Yes this is a huge DLC influence.
14. Do you have any movies you are working on or about to be in?
Not currently. Austin doesn't have much shooting at this time. I'm about to go spend the summer in and out of Atlanta auditioning.
15. Rate these singers from one to ten, One, being someone who shouldn't quit their day job to 10 being one of the beautiful singing sirens that drew the sailors to a watery grave:
I see 11 so I'll do 11! ;) Christina Aguilera-6 Pink-11 Barbra Streisand-2 James Hatfield from Metallica-3 Adele-10 Bon Scott of AC/DC-7 Billy Gibbons of ZZ Top-8 Lemmy from Motörhead-4 Madonna -1 Aretha Franklin-9 Diana Ross-5
16. What are the best and worst three memories that you have with dead love club?
Best- opening for Neon Trees at ACL Moody theater, playing the Dusk Till after party, and getting a song on E! for The Royals. Worst- playing for a bunch of 6-8 year olds at a professional soccer game half time, playing for a corporate Halloween party who had no idea what Dead Love Club was about and EVERYONE leaving after the 3rd song, and playing in freezing weather when I forget to not wear super skimpy stuff... that happens a lot.
17. Do you have rehearsed choreography in your shows or is it mostly off the cuff?
It's all off the cuff. We feed off each other.
18. Have you ever played at men's or women's clubs with dead love club? What was the response like if so?
The strip clubs are fun! Johnny X took our CD and gave it to all the dancers to listen to in the car and when we played they all knew the words and got super into it!
19. Do you travel to other cities other than Austin to perform with dead love club? Any out-of-state shows?
Nothing out if state yet. We go to other cities.
20. Do you see anything exciting coming up or any new innovations with your show in the near future with dead love club?
We have some different fun ideas to include the audience more. Maybe like a murder mystery dinner party but with a sexy fun theme when you come to our show.
deadloveclub.com
- - - - - - - - - - - - - - - - - - - - - - - - - - - - - - - - - - - - - - - - - - - - - - - - - - - - - - - - - - - - - - - - - - - - - - - - - - - - - - - - - - - - - - - -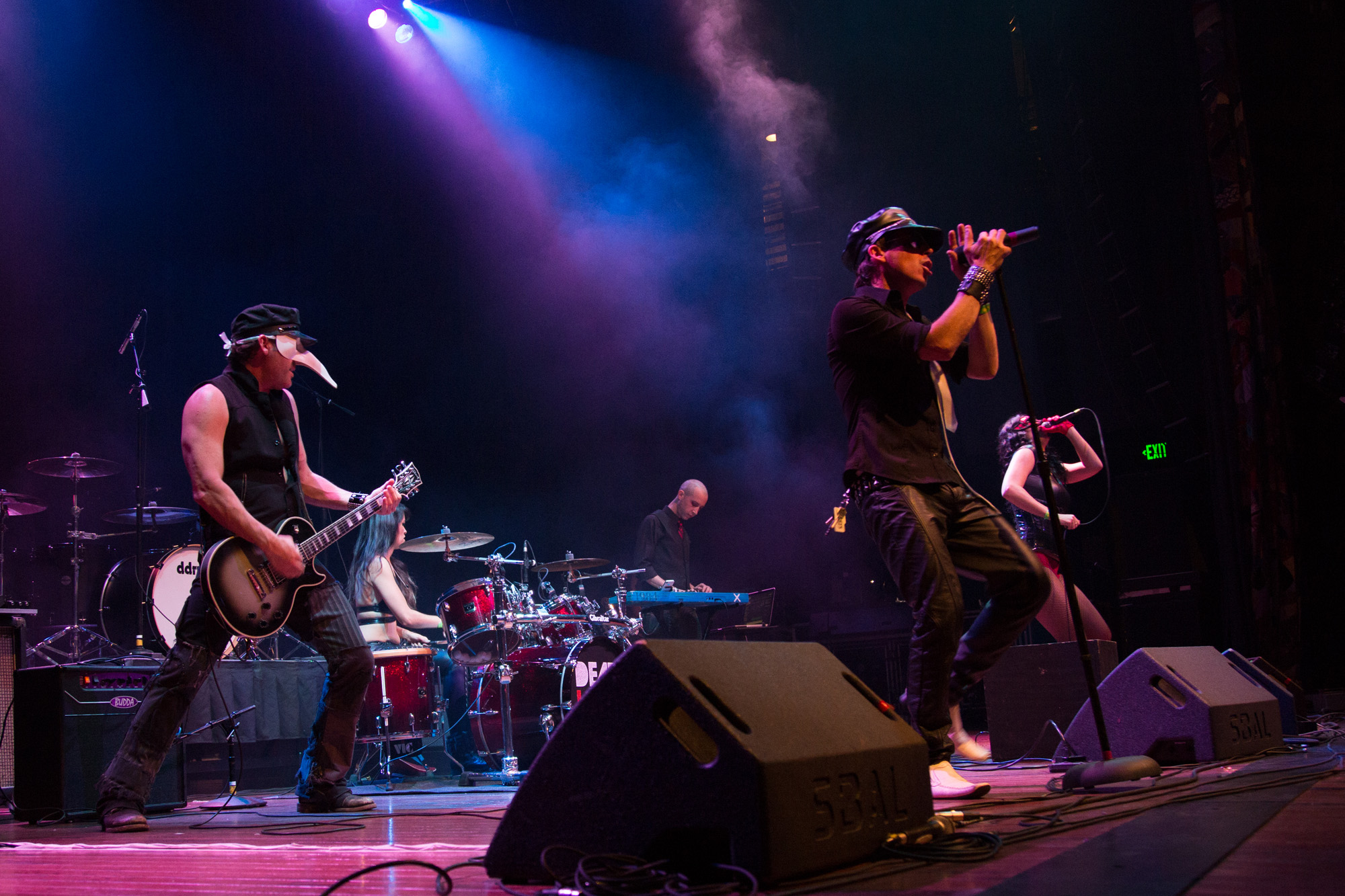 Austin Live Music
Read More: Austin Live Music
Austin Bars
Read More: Austin Bars
Thank You for visting Austin Bands
Home : Austin Live Music : Austin Bars : Contact : Sitemap
Copyright © 2010 - Austin Bands